Web & SEO Tips

The Ink Spot blog

The Ink Spot Blog | Offline Significance in an Online World
Offline Significance in an Online World.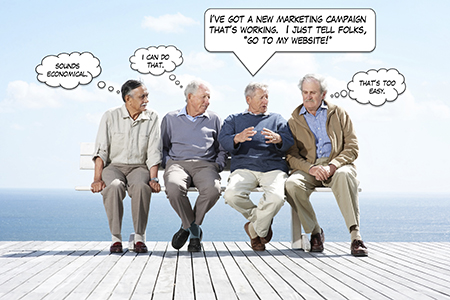 Have you ever wondered how people actually arrive at a website? Do they click a link, conduct a search, already know about the site, or some other means? Surprisingly, statistics from Google suggest that only 27% of folks end up on a website having searched for it and a whopping 36.5% actually type in the web address they want to visit. That means about four out of ten site visitors haven't conducted a search. They haven't clicked on a link either. In fact, they already had the web address in mind, ready to type it into their browser.
With all the effort we put into organizing our Website pages, Facebook pages, Twitter campaigns, and SEO it's all too easy to end up in what internet psychologist, Graham Jones calls a "web bubble". We do everything we can to make things work online, but offline, there's a whole world out there. Four in ten will have found that web address from newsletters, magazines, radio, TV, business stationery, promotional brochures, signage and word of mouth, among other sources.
In fact, if you want people to get to your website, then it needs to live in the offline world too. In addition to putting your web address out there in the offline media listed above, consider mentioning your website during networking events and social gatherings. It's a simple, affordable, yet powerful way to promote your online presence in an offline world.
At Digital Ink Web Creations, we design websites that our clients are eager to share, offline and online.
Renée Paquette, Director and Instructional Technologist at Digital Ink Web Creations