Online Safety Tips for Seniors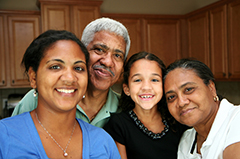 Kids aren't the only ones who should "play it safe" online. We all should. Look over these safety tips for Seniors.
1. Keep your web browser updated.

(Internet Explorer, Google Chrome, Safari) Current versions include protection you need against hackers.

2. Pay attention to your anti-virus software.

Keep it updated and renew your subscription BEFORE it expires.

3. Power off your computer each day.

Your computer will automatically download critical updates while it is powering off and then install them for you when you power up again.

4. Look for safety symbols.

When shopping, banking or sharing information online. Symbols such as "https", SSL, TLS or a closed padlock, are symbols that a page is secure for transmitting information.

5. Only visit web sites that you have navigated to yourself.

Don't assume a pop-up ad or a link contained in an email, even from a trusted friend, will take you to a legitimate web site.

6. Be aware of common email scams targeting seniors.

These include offers for discounted drugs, low-cost insurance and supposed warnings from the IRS (who incidentally does not initiate email communications to taxpayers.)

7. Avoid any reference to travel plans on Social Networking sites.

Sites such as Facebook , while a wonderful way for families to share, are far reaching and could result in your home being invaded while you are away if you've given out too much personal information.

8. Don't give out your birth year online to avoid Internet scams that target seniors.

These include quizzes and surveys that ask very invasive questions about your health, wealth and personal lives. These were created for profit ventures and will generate even more spam offers coming your way.

9. Don't believe the myth that if you don't use a computer you're not exposed online.

Publicly available government records, phone numbers, charitable donations, church and sports groups, action committees, volunteer organizations, and even a grandchild's blog are all potential sources. To be aware of your online presence, simply enter your name in a Google search.
Renée Paquette, Director and Instructional Technologist at Digital Ink Web Creations